Note: This article is co-written by Hans and Anna Gygax
Hans:
This past weekend we attended a Marriage Getaway, presented by the Christian ministry, Family Life, called Weekend to Remember. This getaway was recommended and paid for by the head elder of our church.
Our church is part one of the few reformed denominations that is still very biblically sound. Our church leadership is very solid; the Pastor does not take a salary and he is a fairly wealthy Christian business owner, in addition to being a homeschool father of 10 children. He is dominion oriented and desires to apply the word of God to all of life and society. It is amazing that we even found such a church fellowship, when we sit back and think about it. So this recommendation for such a getaway carried more weight to it than if it were recommended by your average Joe Christian.
But at the same time, when we are told about a Christian event that seems to be very popular even among Christian circles that are compromised to a great extent, wherein most of these type of churches are lukewarm and half-hearted, it makes you question things. Remember the words of Jesus: "[T]hat which is highly esteemed among men is abomination in the sight of God" (Luke 16:15)
Nevertheless, we built up some excitement about the weekend, knowing that God can certainly use people and things that are not quite up to measure, to glorify himself therein.
First Impressions
Anna:
Being excited to get away with Hans for a weekend created an atmosphere of hopefulness, and an attitude of giving benefit of the doubt. There were so many people there, from obviously Mennonite background, all the way to the very liberal Christian couples. That alone threw mixed doubts and emotions into what to expect even more, but the kindness and exuberance of the volunteers and speakers was contagious as we sat down to the introductory session of the seminar.
Unfortunately, the opening night left us in a state of want. But we continued with hope that the next full day of lessons and activities would be much more profitable. But that will be discussed later in this article.
Positive Elements in the Teachings
Hans:
The speakers of this event were Doug Daily, and then a Puerto Rican couple, Tony and Lymari Navarro. They were all very professional and encouraging throughout their speaking engagements, despite the flaws (which will be spoken of later). They all knew how to insert appropriate humor and keep things interesting. We enjoyed the type of real talk they provided, wherein they were not shy to speak about uncomfortable topics. Sex is not a dirty subject when it is within the context of a godly marriage.
All of the speakers carried a humble spirit. Both of the men were manly men, and unashamed to be so; but at the same time they carried the type of humble spirit that every man of God should have; they did not only speak about acting in humility, they demonstrated it.
Anna:
The main goal of this conference, and the theme of the weekend was "Oneness", a much needed point in every marriage out there. We found that focusing on this word and its meaning at a higher level, with the basic principles in these sessions, was very helpful to us and others who attended. This seminar worked very hard to bring couples together…"Get away…Come together" was yet another way Weekend To Remember made sure everyone who was present knew that this weekend was about healing, restoring, and growing marriages.
Hans:
Speaking of oneness: This term is derived from the very beginning of the Holy Scriptures:
And Adam said, This is now bone of my bones and flesh of my flesh: she shall be called Woman, because she was taken out of Man.

Therefore shall a man leave his father and his mother, and shall cleave unto his wife: and they shall be one flesh.

Genesis 2:23, 24
Jesus reiterates this in even stronger fashion in the Gospel of Matthew in his dialogue with the Pharisees:
"The Pharisees also came unto him, tempting him, and saying unto him, Is it lawful for a man to put away his wife for every cause?
And he answered and said unto them, Have ye not read, that he which made them at the beginning made them male and female,
And said, For this cause shall a man leave father and mother, and shall cleave to his wife: and they twain shall be one flesh?
Wherefore they are no more twain, but one flesh. What therefore God hath joined together, let not man put asunder (divide/separate)."
The concept of oneness is very dear to the both of us. We have, from the very beginning of our marriage, sought to be entirely one unit, in thought, word, and deed. There is nothing more beautiful, either, when done properly. It has always baffled us to see other Christian couples functioning as separate units in their daily practices.
Out of all 3 weekend days, Sunday morning contained the best teaching. The men and women were separated in the first session, and the roles of men as husbands and fathers were expounded to the men, by the men, while on the other side of the wall, Lymari expounded upon the roles of the women as wives and mothers.
I was especially pleased with the firmness of the teachers to call men to action and leadership; to stop being passive sissies (not those exact words), and to take dominion (not those exact words either).
Watch ye, stand fast in the faith, quit you like men, be strong.

1Corinthians.16:13
Leaving a legacy was a big topic, as well as very good practical tips of fatherhood. Men were clearly called out as those who are responsible for the state of their families, called to be courageous, fearless, and to walk in humility as the head of the family. Servant leadership was emphasized in a balanced way that was very satisfying.
And whosoever will be chief among you, let him be your servant:

Matthew 20:27
Have not I commanded thee? Be strong and of a good courage; be not afraid, neither be thou dismayed: for the Lord thy God is with thee whithersoever thou goest.

Joshua 1:9
Man is the provider of all needs; physically, spiritually, emotionally. He is the protector and nourisher. He is to be a man of God as an example for others to follow. He is to spend time in the word and in prayer, taking up his cross daily.
"Husbands, love your wives, even as Christ also loved the church, and gave himself for it. That he might sanctify and cleanse it with the washing of water by the word, That he might present it to himself a glorious church, not having spot, or wrinkle, or any such thing; but that it should be holy and without blemish. So ought men to love their wives…" — Ephesians 5:25-28
Anna:
Lymari's teachings, though they do not appear to have a strict role of the wife always being the keeper at home (as we believe), were adamant in showing the women that being a wife and mother is the highest honor and calling we could have…and being "just a stay at home mom" (as the world calls it) is the most difficult and fulfilling job out there. She was witty and able to laugh at her past shortcomings, and sharing the lessons in her life over the years allowed the ladies present to see how God in his grace and mercy can overcome any obstacle, both in circumstances, and in ourselves. Each women was encouraged to step up to the true meaning of "Ezer" (helper/warrior) that God created her to be, in encouraging, honoring, fighting battles in prayer, and supporting her husband. As a mother and wife, she reminded us of the importance that we set the tone for our homes, and are largely responsible for guiding and developing the character of our children and the strength of our husbands.
Positive Elements in the Structure and Activities
Hans:
Anna and I thought the structure of this entire weekend was very good. As the teachers are speaking, there are portions to fill in, including exercises that cause the individual partners to examine themselves, writing down past and present struggles and sins. This reminded me of the Basic Life Seminar by Bill Gothard, just that these teachings were not as Biblically sound and full as Gothard's.
Anna:
The key topics in these seminars were laid out very well, each one leading into the next. From God's purpose in marriage, to His plan, then His power, process, and finally His product, Family Life planned Weekend To Remember to rebuild the foundational elements in families. They soundly showed that when couples are not intentionally moving towards oneness, their marriages will drift toward isolation. It is the same concept in our Christian life…if we are not pressing on toward the perfection of Christ and building his kingdom, we will slip back into the world and lose ground: There is no such thing as being still, and thinking you are fine.
My favorite portion of the seminar, was the projects given to the couples after several sessions. (However, we do wish there would have been more time to complete each activity. We had to use our lunch hour to catch up on each one, as we made sure we were thorough.) Three separate times, we were sent off to work on well thought out studies and written tasks that would allow Hans and I to evaluate ourselves, what we learned, and how to apply it together in our relationship. We were able to dive deeper Biblically into the given scriptures, and really examine things in our marriage that we otherwise would have not focused on, despite the need. Truly, it was a call to take the specks out of our eyes, and cut out the roots of problems all married couples like to pretend don't exist, such as communication, deeper commitment and appreciation, past sexual hangups and intimacy stumbling blocks, and so on.
For example, Saturday afternoon, the assignment given was to write a letter to our spouse. The session it was derived from discussed the topic of your partner being a gift from God…Do you treat and accept your husband/wife as a true gift from the Lord, designed specifically and purposefully for you? Despite all of their flaws, and yours too, you are both made for each other, and each difference in the other, whether good or bad, is used by God to help the other grow in the image of Christ: Hans perfectly compliments me and ultimately brings out the best in me, molding me and shaping me into who I am called to be. With this project, we answered questions to ourselves and prayed over each aspect. Then we wrote our answers to our husband/wife, telling them how they have helped us, what we most appreciate about them, in what ways we have committed to God to love them more, etc. Then sharing our letters and our hearts with each other, we prayed and discussed what was stated, and verbalized our commitment that we made to God during our individual prayer time.
Saturday night also included a date night….it was such a fun time! The sessions ended early so couples could spend special quality time together, whether going out or staying in, or whatever suits their fancy for the rest of the night. It has been a very long time since Hans and I have gone on a date, and not been preoccupied with having to get back home to the children. Having that dedicated time to not have to rush and finish our date, to fully focus on each other, was far-reaching in remembering the oneness in our marriage.
One final little treat at the end of the closing session on Sunday, was a "vow renewal" type activity. Everyone stood up to face their spouse, and repeated vows of renewing commitment and dedication to each other before God and all witnesses there. Definitely a teary eyed moment, at least for me! Each couple was given a beautiful vow renewal certificate as well. Every one of these little details in such activities shows the value Family Life places on the importance of bringing husband and wife to the next level in their relationship.
Troubling Issues in the Teachers
Anna:
The slightly secular jokes about sports and movies, and the sounds of laughter from the crowd's responses, made us wonder exactly where we could fit in with such a crowd. It was obvious that such comedy is intended for the vast majority of secular Christians attending, where couples such as Hans and I (and those Mennonites), with a much more conservative and serious view to Christ's calling, did not necessarily appreciate such worldly examples.
Hans:
There was a tendency of the speakers to skip over the Biblical passages that are in the workbooks and to instead choose to give quotations from secular figures and sources. At one point, instead of expounding upon the scripture, the secular magazine Redbook was quoted for statistics. This may sound petty to you, but I found that this theme far too prevalent during the conference. It gave off the appearance that secular sources, worldly statistics, and pragmatism were considered the authority instead of the word of God; this all despite, that in the beginning of the conference, the workbook emphatically states that the word of God is the source for all authority and right living. There is so much richness in the word of God, and I felt grieved that these texts were so frequently passed over without expounding upon. One of the speakers, Doug Daily, insisted on painting a picture (with the type of illustrations and life stories that he told) that his whole Christian life has been an exercise in worshiping "the ball game".
After the first several sessions, including all of Friday evening and the Saturday morning sessions, I told Anna that I was pretty disappointed, but that we would still seek to get out of this conference what we could. Thankfully, we were still able to enjoy time together, we spoke one to another. And after sticking it out the entire weekend, we were thankful for the remaining sessions. If only the entire conference could have been as good as Sunday's sessions.
Blended Families
Another troubling element was the ministry's overemphasis on what they call "blended families". A blended family is a family wherein the children do not all come from the same set of parents who are presently married. So this could be:
A couple where at least one of the members is divorced and remarried
A couple where at least one of the members had children prior to marriage
A couple wherein one of the members is a widow with children
I think you get the point. The problem that we had with this, was that it was emphasized far too much, instead of holding the high standard of God before everyone. Surely, there are exceptions, but we should not spend a significant amount of time on the exceptions. They seemed to be very supportive of any marriage. Now Anna and I believe Jesus was very clear that divorce and remarriage is adultery (Mark 10:11,12); however, even if you buy into the belief that the Gospel of Matthew gives a so-called "exception clause", how does Family Life know that the divorced and remarried couples are within that exception? Why are they supporting every marriage, unconditionally, even if it is unbiblical? I guess, at least, they reject Sodomite couples and have not gone full-fledge in their unbiblical practices.
Problematic Imagery
Throughout the speaking engagements, there were consistently jokes and the encouragement of celebrating that your children were not there and in the way of all the fun you get to have, alone. Certainly, there is nothing wrong with valuing alone time with your spouse. But by no means were we celebrating that we were "kid free", like in the following image. Would anyone think it would be acceptable to hold a sign celebrating the fact that you weren't there with them at any kind of event? How insane is that? What kind of message are you sending to your children? Would you want your children to see it? How would it make them feel? Seriously!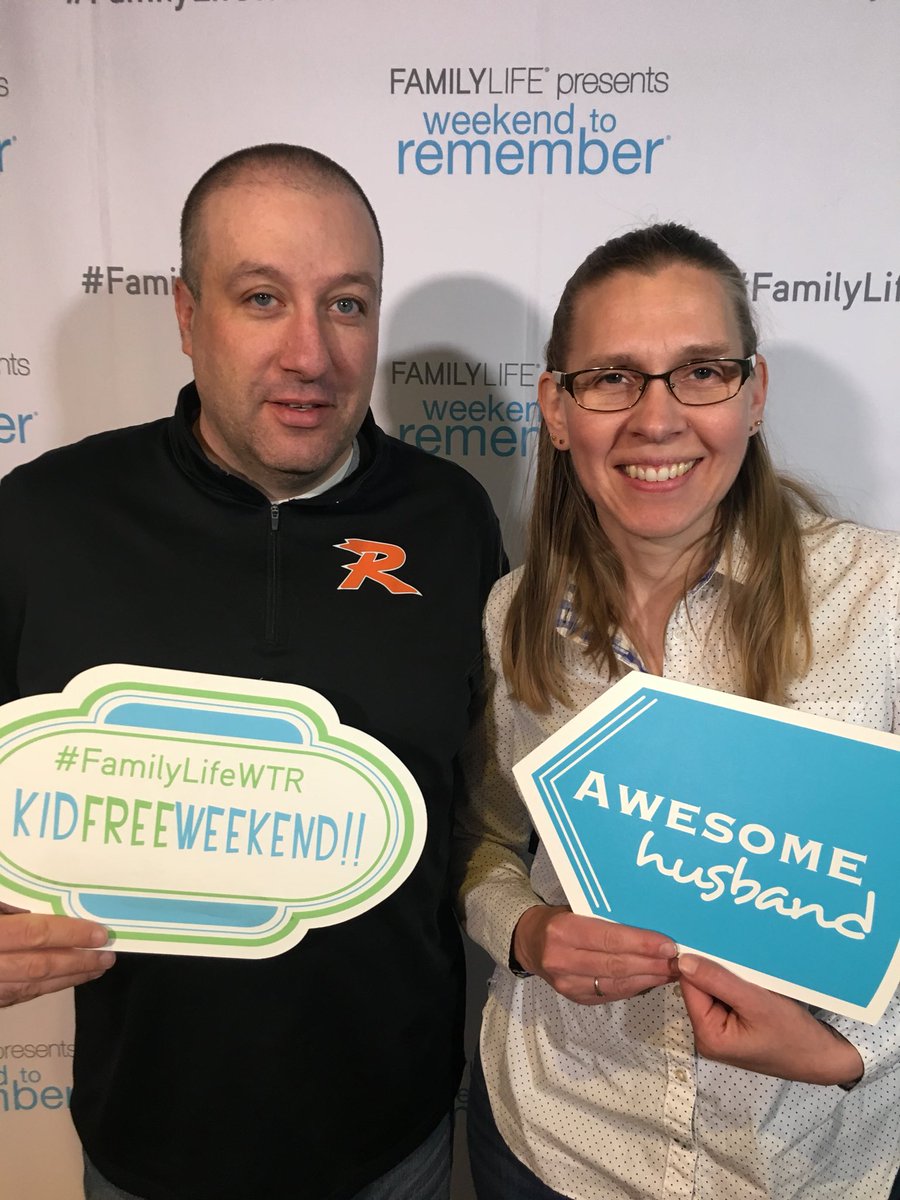 The imagery throughout the conference was a consistent bombardment of couples who did not accurately reflect the demographics of the conference. Most of the couples there were white. The ones who were not white were generally with a partner of their own race. But you would not know that from the table displays. Almost all images in the conference room and in the table displays for products to buy, were of non-whites and even of mixed-race couples. In fact, the feature image of the Weekend to Remember website is of a mixed-race couple. Of course, it always has to be a black man with a white woman, following the trend of the modern anti-Christ, anti-white cultural programming.
Overall Thoughts and Summary
Hans:
Our overall impression of the Weekend to Remember from Family Life ministry, is that it is very much geared toward the typical church-going Christian; the type of Christian who really does not take the word of God very serious– the type of Christian who is more excited about "the ball game" than he is about the Kingdom of God. These are the type of Christians who generally love the world, and the world's toys, gadgets, and entertainment.
Despite these negative elements, we still consider the getaway to have been a profitable use of our time. We got to write focused and principled love letters to one another, were encouraged to participate in activities together, including a date night where we were able to visit an old German Village and an old, authentic German restaurant. The overall concept of this type of event is stellar. If the details were executed more biblically, there would be much smaller crowds, but the quality (in biblical terms) would have been much better.
We told the church leadership, and told others we know, that if this getaway was indeed as good as we hoped it would be, that we would be purchasing tickets for other couples that we knew. At this point, I feel hesitant to endorse this event. I struggle in my mind: Would this be good for the Christian couples that we know, who are not quite as dedicated to being wholehearted for Christ? Maybe it is good for people who are at that level in their Christianity. It would definitely benefit marriages that we know of, who struggle with even the most basic elements of marriage (a reflection of the failures in the churches).
Would I recommend this to those wholehearted Christians that we know? Possibly: If you can get over the negative elements and focus on your marriage and how you can apply the principles learned in the conference; if you can use wisdom to focus your time at the event (and afterward) using the basic premises and outline, and extending upon it with your own knowledge of God's word– then yes. This is actually why we thought it was profitable for us.
All that to say, this is just one more area that I think those of us who wholeheartedly follow Christ need to step up and create our own version. We need our own version of Christian children's books. We need our own homeschool material. And we need our own version of a marriage conference. The premise itself, the structure itself, is excellent.
I view it the same way I do the Amish. The Amish have a structure and model that is unmatched. It is biblical and it works to achieve the goals that Kinists all desire. But their execution of it is marred because of their unbiblical personal/church/life application (especially that pertaining to salvation); their continual compromises and sliding into the evil of the world system in certain ways has not helped either.
Anna:
In my honest opinion as a wife, a the type of person that tries to give the benefit of the doubt to people and situations, I appreciate all of the effort and thought put into Weekend To Remember. There is so much benefit to be gleaned for every married couple in this seminar. The material from each course will allow Hans and I to dig deeper into what God's word has for us to grow as husband and wife. This seminar is definitely a jumping off point to either lay a foundation for a newly married or hurting couple, or to apply aspects and open doors for seasoned couples who just need reminded of what the Lord has intended for marriage. If you can focus on what is being taught, and avoid the personal opinions and jokes, as well as spit out the bones of watered down Christianity and modern age agenda, it is a profitable weekend away with your spouse.
Despite the fact that we had hoped for more Biblical reference and having to overlook the negatives, Hans and I must remember why we went: to focus on our marriage and try to repair breaches that we might not even know exist. And with that, I would say Weekend To Remember fulfilled our expectations. If you can remember that is the reason why you are attending, you will benefit and grow in this event, both as husband/wife, father/mother, one as a couple, and one with Christ.